I was browsing the excellent Sam Knows site yesterday and decided to see what BT's lastest plans are for our Parish and the surrounding countryside.  Here is the map: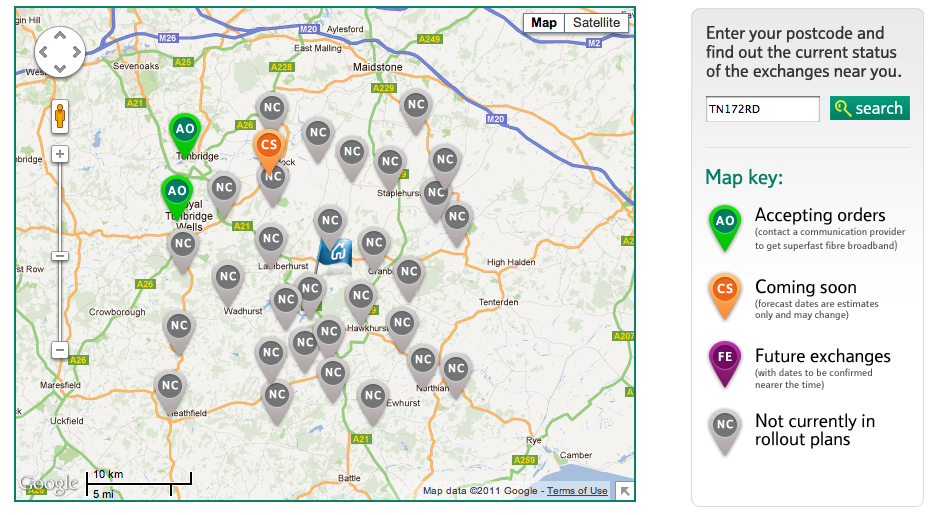 My house is where the blue flag is.
We are year on from the great efforts that Brenchley, Hormonden, Goudhurst and Cranbrook put into BT's so-called "Race for Infinity"coming #1, #2 and #3 in Kent.  It seems that infinity is still an awfully long way off – and BT still have no plans to get us there!  The only real difference from December 2010 is that TalkTalk have unbundled the Cranbrook exchange.  I also hear that Lamberhurst might get some sort of boost in early 2012- but not quite sure what that entails.
Jeremy Hunt laid out a strict timetable for the county councils to come up with county broadband plans by the end of February – so we hope that things will become a lot clearer as we go into 2012 and that by this time next year we might not be at Infinity – but we will certainly be able to travel a lot faster on the internet than we do now!
I'm off to the other side of Tunbridge Wells tomorrow to see the folk at Langton Green who are in the same boat.  Maybe it is time to get a Tunbridge Wells Rural Community Broadband Action Group going to champion the cause for accelerating the rollout of Rural Broadband to the borough.  Watch this space for more on this over the coming months.